The BBC has revealed its list of 100 inspiring and influential women from around the world for 2020.
This year 100 Women is highlighting those who are leading change and making a difference during these turbulent times.
The list includes Sanna Marin, who leads Finland's all-female coalition government, Michelle Yeoh, star of the new Avatar and Marvel films and Sarah Gilbert, who heads the Oxford University research into a coronavirus vaccine, as well as Jane Fonda, a climate activist and actress.
And in an extraordinary year – when countless women around the world have made sacrifices to help others – one name on the 100 Women list has been left blank as a tribute.
Dignity of Women biography: Josina Z Machel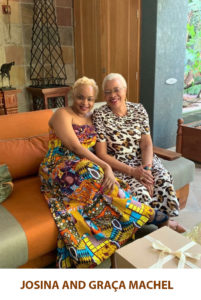 Josina Z Machel is a long-standing human rights defender. As the daughter of Graça and Samora Machel, and stepdaughter of Nelson Mandela, she was born into a legacy of activism, and is fiercely passionate in her life's calling to advance women's rights.
In October 2015, Machel was physically assaulted by her then-partner, which led to her tragically losing sight in one eye. As a result of this horrific experience, her activism took on new meaning and she felt propelled to vigorously fight for the rights of abused women, realising that there are many like her who have faced brutality without being able to speak out.
As a survivor of domestic violence, she is turning her personal trauma into purpose. Through the Kuhluka Movement, Machel is helping to accelerate social change on gender-based relationships, and creates safe havens for survivors of violence in communities across Southern Africa.
Machel is a co-founder of the Her-Life project to provide services and support for women in emergency situations. She serves on a number of international boards, including those of the Graça Machel Trust, the ABC Atlas Mara in Mozambique, the Emerald Group, and the Zizile Institute for Child Development. She also serves as a director at the Samora Machel Documentation Centre.
Source: BBC/Nelson Mandela Foundation