For seven years, a war has been going on in eastern Ukraine and now Russia is accused by the West of threatening an invasion.
It all goes to show that existing peace deals are not working. So why have those agreements failed and is a peaceful solution possible?
Minsk agreements
Since war in the east broke out in April 2014, more than 14,000 people have died. A deal was reached in 2015 between Ukraine's then-president Petro Poroshenko and Russia's Vladimir Putin.
That became part of what is now collectively called the Minsk agreements. They outlined a plan of how to end the conflict between Ukrainian and Russian-backed separatist forces in the troubled region in eastern Ukraine known as the Donbas.
There have since been more than 20 attempts to have a ceasefire, according to Ambassador Mikko Kinnunen, special Ukraine representative of the Organization for Security and Co-operation in Europe (OSCE).
None has lasted long and soldiers are still being killed on the front line.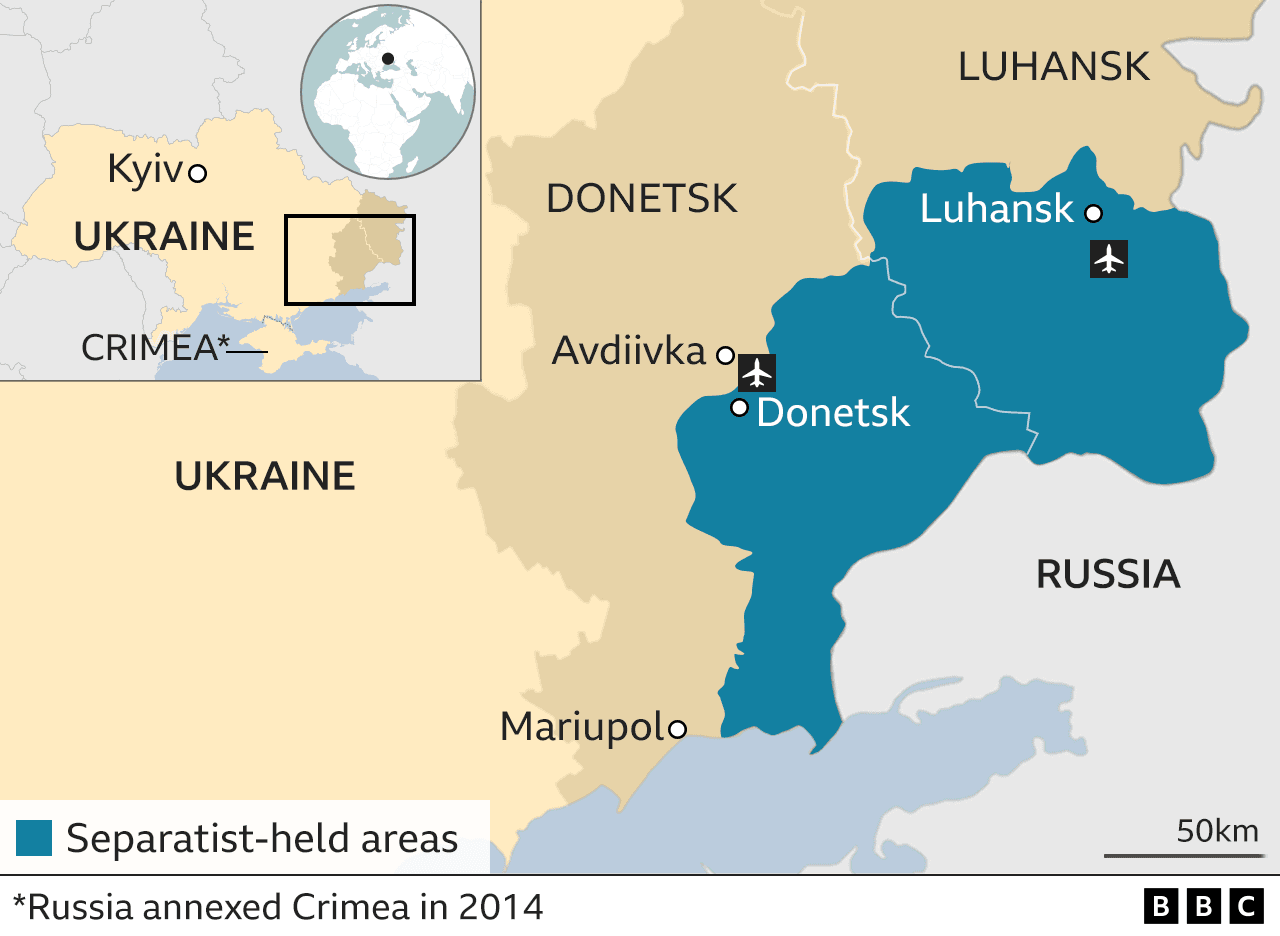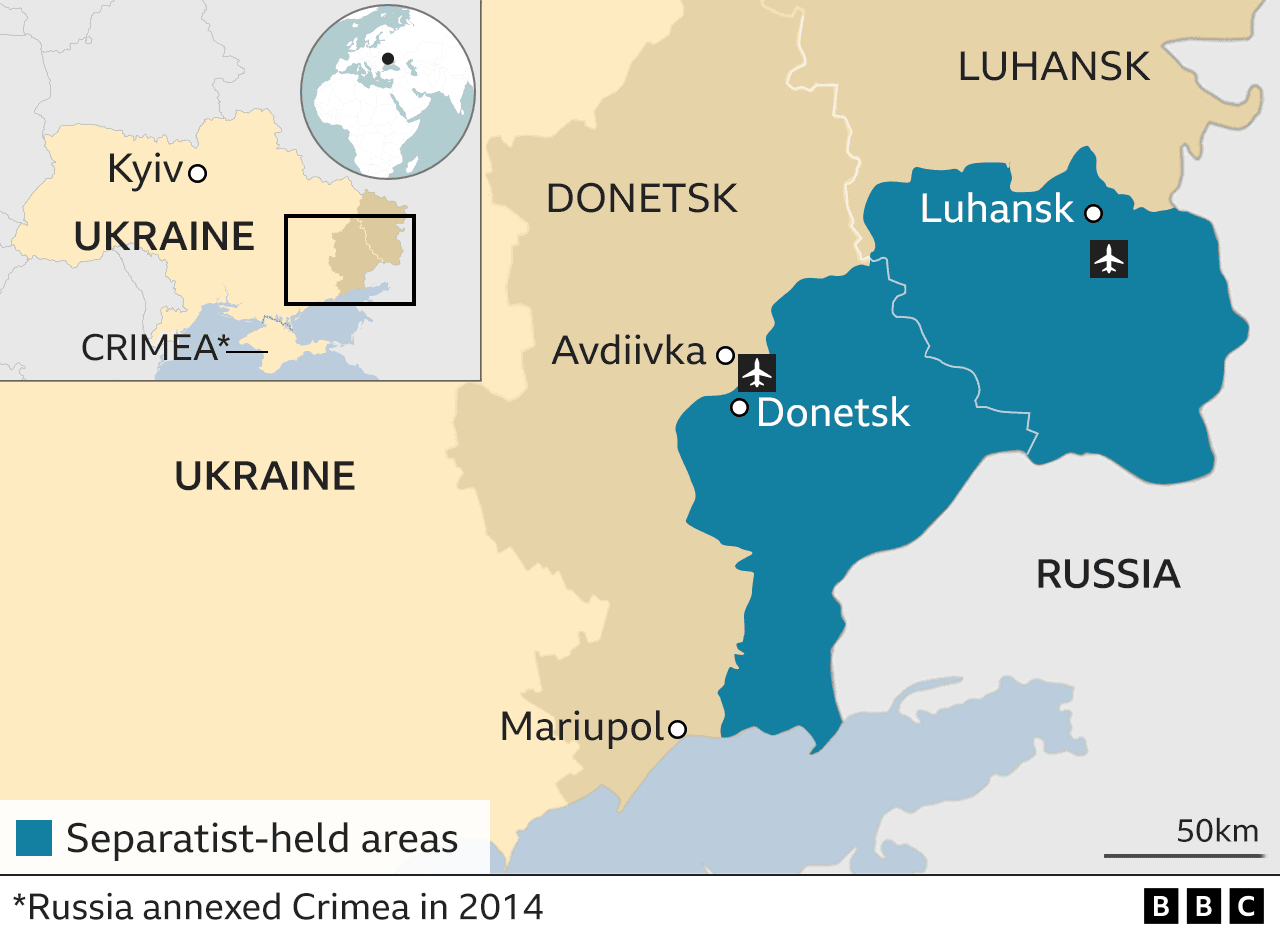 His organisation is part of a Trilateral Contact Group (TCG) with Russia and Ukraine, created to implement the Minsk agreements. The ambassador believes a peaceful solution could work provided there is "political will".
But that seems unlikely now given the current talk of a possible invasion and of Russia's "red lines" in reaching a deal.
The other hope for a solution is the Normandy format, the platform for dialogue between France, Germany, Russia and Ukraine.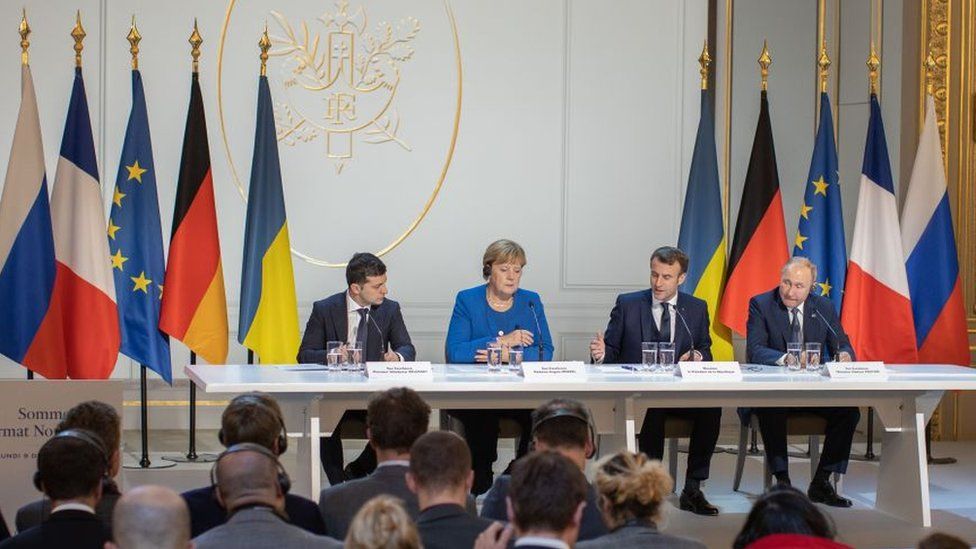 Russia wants to talk direct to the US instead, calling for security guarantees from Nato. Ukrainian President Volodymyr Zelensky says he would welcome a more active US role, but perhaps in parallel.
Stumbling blocks for Russia and Ukraine
There are fundamental differences in the Russian and Ukrainian positions. But the major dispute centres on a political settlement for the Donbas.
The two countries have "irreconcilable" views on the future of the war-torn areas in eastern Ukraine, says Duncan Allan, an associate fellow at Chatham House.
Ukraine wants to restore its sovereignty and territorial integrity while Russia, he believes, wants "to force the authorities in Kyiv to grant far-reaching autonomy or so-called special status" to eastern Ukraine.
But that would turn those territories into "quasi-independent mini states controlled by Russia", and enable Moscow to have a profound influence on Ukraine's foreign and domestic policies, Mr Allan says.
The government in Kyiv argues that special status for the rebel-controlled areas of eastern Ukraine is already incorporated into nationwide decentralisation reform.
Russia, however, accuses Ukraine of derailing the peace process by failing to introduce that special status as well as holding local elections as required by the Minsk agreements.
It argues Western military assistance for Ukraine threatens its security and wants formal commitments barring Nato's expansion eastwards.
Finding common ground
For more than four years Martin Sajdik acted as OSCE mediator between the two sides in the Trilateral Contact Group.
He says it is hard to reach common ground "if one side wants to have more than is written in the agreements", adding that the Minsk accords point to a solution on the special status of the Donbas within the decentralisation of Ukraine.
"The Russian side always reiterates that the certain areas of Donetsk and Luhansk regions should have autonomy, but the word autonomy does not figure in the Minsk agreements," he added.
Handing back Ukraine's border
Another major stumbling block is how to implement the deal's political provisions.
Moscow argues that the Minsk agreements clearly state the following steps: local elections and a political settlement must happen before Ukraine regains full control of its border with Russia.
Since the conflict broke out in 2014, Ukraine has had no access to that part of its border and Kyiv accuses Moscow of using it to send Russian troops and equipment to support separatist forces.
That is why Ukraine insists it should regain control of the frontier before local elections are held.
Otherwise, "local elections would be held under Russian pressure and in the conditions of the Russian occupation", says Oleksandr Merezhko, deputy head of the Ukrainian delegation at the Trilateral Contact Group.
Under the Minsk agreements, elections must be held according to Ukrainian law and that is possible only if they control the border, he insists.
Mr Sajdik says Russian negotiators and representatives of the so-called Donetsk and Luhansk people's republics have avoided discussing the border handover in the trilateral group: "But we have always argued that the Minsk agreements are a whole package and one cannot negotiate it like cutting a salami."
The Russian side has not responded to the BBC's queries but earlier this year Russian Foreign Minister Sergei Lavrov warned there would be "slaughter" if Ukraine were allowed to regain control of eastern Ukraine, including the border, before local elections were held.
'No middle way'
So, is it possible to bridge these two positions in a way that is acceptable to both sides?
Duncan Allan says no, because the views on Ukraine's sovereignty are incompatible: "In other words Ukraine is either sovereign, which is Ukraine's position, or it is not sovereign, not fully sovereign – and that's Russia's position. And there is really no middle way between those two positions."
Russia's latest demands to prevent Ukraine joining Nato are seen as yet another attempt to limit Ukraine's sovereignty. Even if the US was to take part in talks, the same incompatible positions would be there.
However, Ambassador Sajdik believes compromise is possible and that Minsk is a viable solution to end the conflict. But only if there is political will, and that is something Russia and Ukraine accuse each other of not having.
Nevertheless they all agree it is important to continue the dialogue within the existing formats. "The alternative is something far more dangerous," says Mr Allan.
Source: BBC