The Queen has said she was "humbled and deeply touched" by the Platinum Jubilee celebrations held across the UK.
In a "thank you" letter after a concluding pageant in London, she said she remained committed to serving as monarch with the support of her family.
The Queen said despite not being at every event marking her 70-year reign: "My heart has been with you all."
She was joined by three generations of her family on the Buckingham Palace balcony for the finale of the pageant.
Her appearance rounded off a huge star-studded procession along The Mall which saw carnival floats celebrating the seven decades of her reign.
Millions of people also held Jubilee parties and street lunches in towns and cities across the UK on the final day of the four-day bank holiday weekend.
In a statement issued as the long weekend's events drew to a close, the Queen, who is 96, said she had been inspired by the kindness, joy and kinship she had seen over during the four-day celebration.
It said: "When it comes to how to mark 70 years as your Queen, there is no guidebook to follow. It really is a first. But I have been humbled and deeply touched that so many people have taken to the streets to celebrate my Platinum Jubilee.
"While I may not have attended every event in person, my heart has been with you all; and I remain committed to serving you to the best of my ability, supported by my family.
"I have been inspired by the kindness, joy and kinship that has been so evident in recent days, and I hope this renewed sense of togetherness will be felt for many years to come.
"I thank you most sincerely for your good wishes and for the part you have all played in these happy celebrations."
It was signed, Elizabeth R.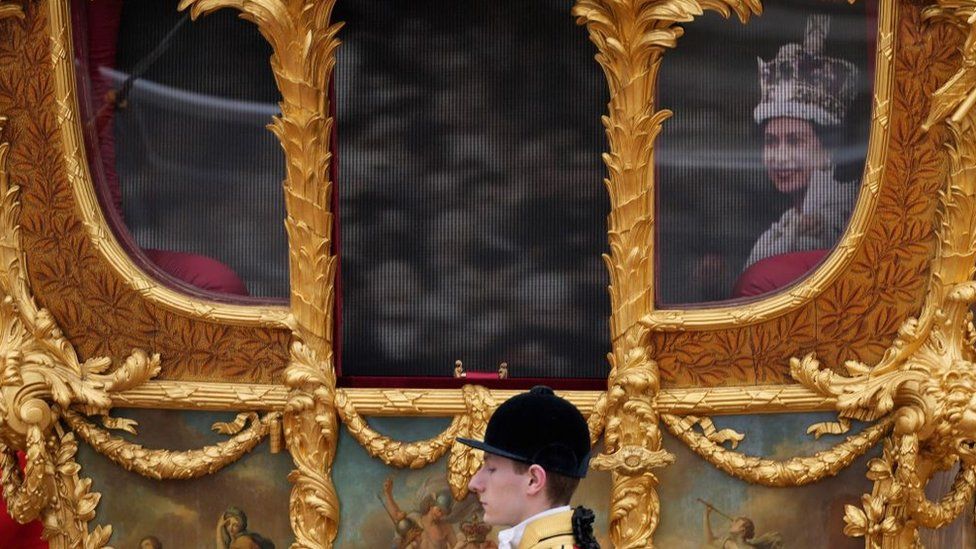 Sunday's pageant began with a military parade with personnel from the UK's armed forces and from across the Commonwealth.
The 260-year-old Gold State Coach which carried the Queen to her coronation in 1953 rode through the streets, with the Queen appearing as a hologram inside.
As the floats made their way past during the two hour show, Prince Charles, Prince William and Prince George – the next three generations of monarchs – all watched from the royal box.
The Duke and Duchess of Cambridge later tweeted: "Amazing display of street art, theatre, music, sport and more… what a joyous occasion!"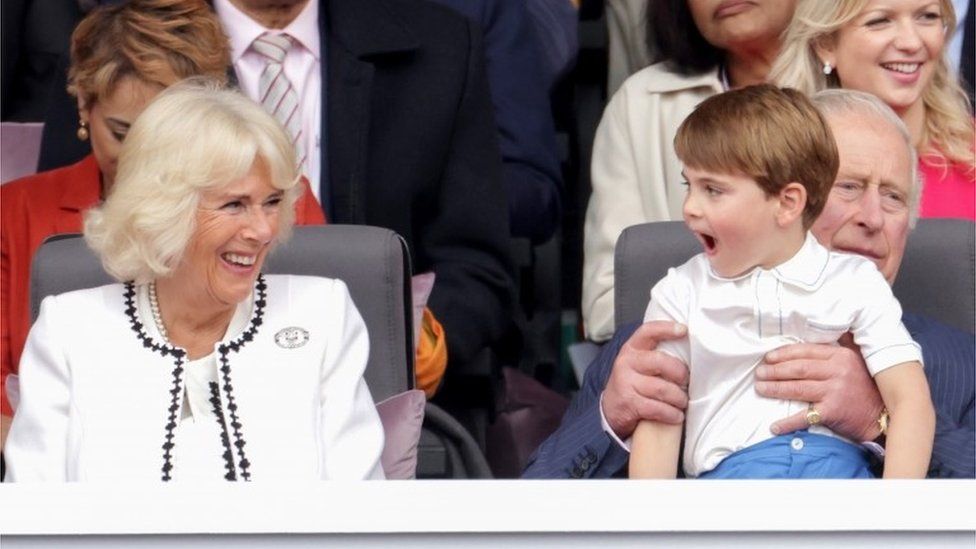 The military section was followed by colourful open-top double-decker buses depicting the different decades of the Queen's reign – with a host of celebrities representing achievements in music, fashion and the arts aboard each one.
There was a peloton of 300 cyclists on bikes of all shapes and sizes, led by the Olympic gold medallist Sir Chris Hoy, and a parade of vintage cars that saw a fleet of Morris Minors in various vivid colours drive up The Mall. It was followed by a collection of James Bond cars – all moving very slowly.
TV personalities, musicians, chefs, sportspeople, designers, and artists who have helped shape British culture of the last 70 years took part.
Among them were singer Cliff Richard, boxer Chris Eubank, model Naomi Campbell and athlete Sir Mo Farah.
Cultural icons such as the Trotters' yellow van from sitcom Only Fools and Horses, the video game character PacMan, and children's TV characters filled the streets.
The pageant also saw street theatre acts and urban dance from groups across the UK.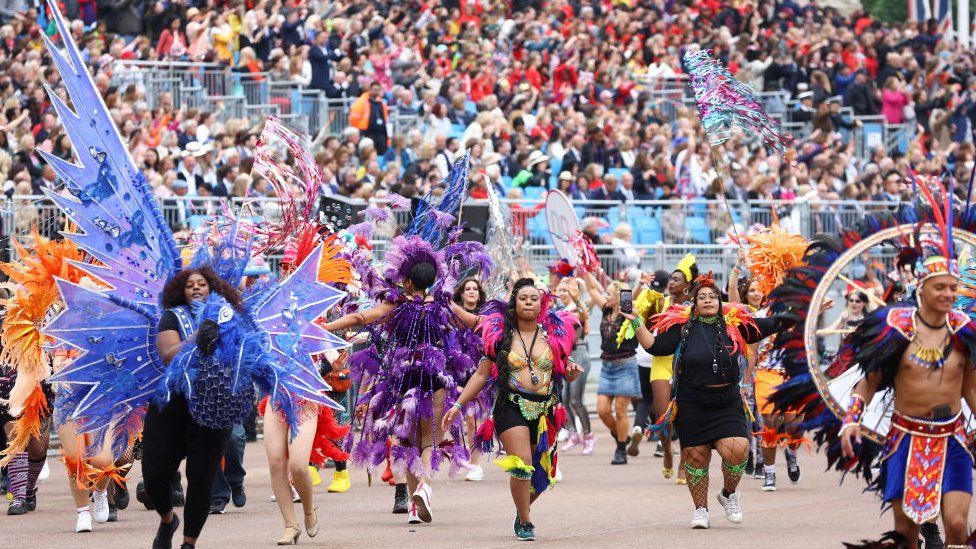 A number of enormous animal puppets depicting swans, a bull, snakes, ravens and a rainbow peacock then moved along the route.
There was a big Bollywood wedding party, with dancers parading an enormous tiered cake topped with a number of corgis, and puppets of African animals – including elephants, giraffes and flamingos.
The show ended with a performance of Perfect from Ed Sheeran, and the mass rendition of God Save the Queen.
However, a planned flypast by the Red Arrows was cancelled due to poor weather.



So the Queen appeared on the balcony of Buckingham Palace for the final event of the Jubilee.
There was rapturous applause from a crowd, who were surprised as well as delighted to see her.
After so many concerns about her health there had been doubts about her being there.
The Red Arrows didn't make it, because of the weather, but she made it. It seemed appropriate for such a tenacious monarch.
She arrived at the end of the pageant. That parade had been an hallucinogenic Jubilee cocktail of music, puppets, dancers, classic cars and even older celebrities.
It was baffling, brilliant and bonkers.
The Queen's appearance had its own symbolism, accompanied by those who will follow her, Prince Charles and Camilla, Prince William and Catherine and their children.
It felt like a bit of history and an image we'll see in the years ahead.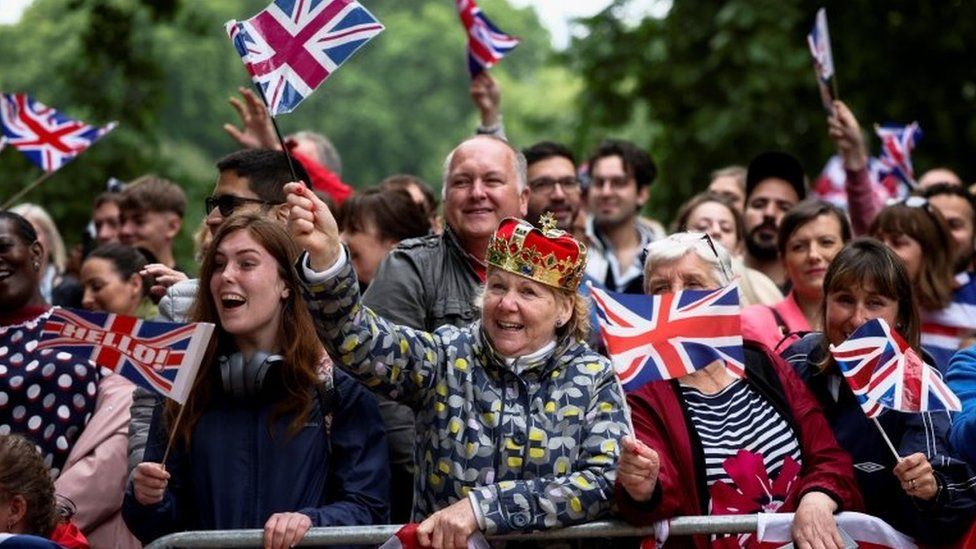 The event rounds off a long weekend of celebrations across the UK.
Saturday night saw affectionate tributes from the Prince of Wales and national figures during the evening's Platinum Party at the Palace.
The Queen, who has been experiencing mobility problems in recent months, was not able to attend the event herself.
But she kicked off the event with a pre-filmed comedy sketch showing her sharing a pot of tea with Paddington Bear, where they both confessed to carrying around a marmalade sandwich.
The Platinum Jubilee events began on Thursday, with Trooping the Colour – at which the Queen also appeared on the balcony.
There was a service of thanksgiving on Friday, which she was unable to attend because of discomfort she felt on Thursday.
She had to cancel her appearance at the Epsom Derby on Saturday for the same reason.
Away from Buckingham Palace, some 10 million people have been holding Big Jubilee Lunches, picnics and barbecues, across the UK.
Charles and Camilla began the day by meeting guests at a street party in south London amid tables strung with union jack bunting and laden with cakes.
Source: BBC