British driver surpasses German's record of 91 race wins
Valtteri Bottas led briefly but had to settle for second place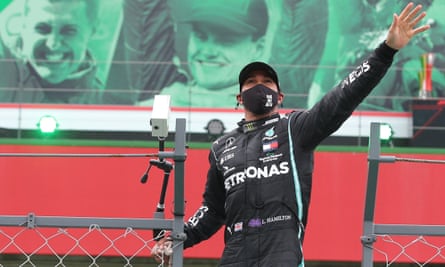 Lewis Hamilton waves to the spectators after winning the Portuguese Grand Prix, with the image of Michael Schumacher (top left) in the background. Photograph: José Sena Goulão/AFP/Getty Images
Only time will tell how long Lewis Hamilton's extraordinary success story will run. At this moment, however, it is enough to acknowledge the world champion as he is now – in winning the Portuguese Grand Prix to become the most successful Formula One driver in history.
A sportsman at the peak of his powers who has delivered now so consistently, for so long, that like the true greats he is almost making the extraordinary look commonplace. Which is to do him a disservice, everything about his victory summed up why he is one of the greatest of all time. His touch was exquisite, the win emphatic.
F1: Hamilton surpasses Schumacher with victory at Portuguese Grand Prix – as it happened
As he crossed the line at the Autódromo Internacional do Algarve to take his 92nd win, one more than Michael Schumacher, his race engineer Peter Bonnington summed it up succinctly. "What a race," he said. "You are rewriting the history books." Which he is.
Schumacher's records were thought untouchable. Hamilton has them all in his grasp and will likely shatter them to the winds. He already holds most pole positions and now race wins. This season he will match Schumacher's seven titles and there is every chance next season surpass that milestone too.
Yet much as this was a recognition of the accumulation of success, a numbers game, it was also a moment of sheer emotion for the world champion too. Two weeks ago, on equalling Schumacher at the Nürburgring, he had been moved, humbled, he said. Here in Portimão there was a sense of giving free rein to revel in the joy of having achieved something no other driver has ever managed.
Having climbed from his car he went to enjoy a long embrace with his father Anthony, who had been so vital in supporting Hamilton's career when he began racing. There were tears in his father's eyes as his son stood atop the podium, doubtless made all the more poignant now the pair have reconciled after their once close relationship broke down in 2010.
For Hamilton himself there was unalloyed joy and a distinct sense that this was a moment he would allow himself to savour. He deserves it and the recognition for it.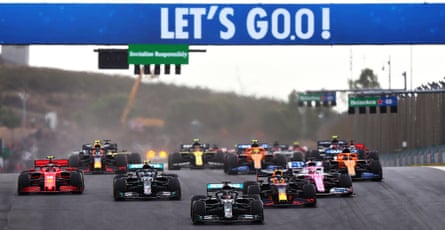 Lewis Hamilton leads the way as the race begins. Photograph: Dan Istitene/Formula 1/Getty Images
It had been his remarkable judgment that led him to run an extra lap in qualifying that helped ensure he took pole. It is an almost other-worldly talent possessed by only a tiny number of sportspeople.
He has combined this with an enormous natural talent and an intimidating ability to turn in performances that are so often flawless.
In Portugal it was his touch in managing his tyres such that he had pace a class apart from his rivals. Mercedes teammate Valtteri Bottas, who was second, admitted he could do nothing to challenge the world champion.
Indeed if there are chinks in Hamilton's armour he guards them well. Physically and mentally the British driver presents a rock against which the waves of the opposition crash with futility.
It has taken him 262 races to reach his remarkable 92 wins, having scored his first at Canada in his debut season in 2007. Now 35 years old, his record since then has been hugely impressive. He is the only driver to have taken a win in every season in which he has competed, now stretching across 14 years in F1. Since Mercedes proved so strong when the turbo-hybrid era began, he has been ruthless in taking every opportunity and returning an extraordinary success rate. He has 71 victories for the team and bar 2017 when he took the title with nine wins has scored 10 or more a season every year since 2014.
It is relentless success that has perhaps made it sometimes feel almost as a foregone conclusion yet it is anything but. This trait, the repeated inch-perfect execution across circuits, conditions and machinery season-in, season-out is what other drivers recognise as making him so hard to beat. Max Verstappen, who was third for Red Bull, acknowledged it.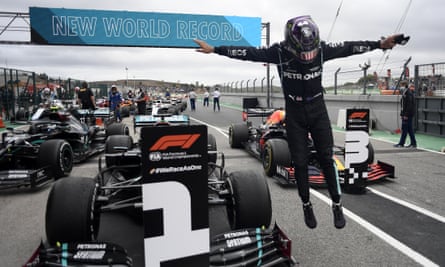 Lewis Hamilton of Britain jumps out of his car after his record-breaking win. Photograph: Jorge Guerrero/AP
"Everybody knows he is very quick but what has been his strong point is he is very consistent and very rarely makes a mistake," Verstappen said. "That's why he got to these numbers so quickly, it's very impressive."
Hamilton did so in Portugal with a masterclass that epitomised Verstappen's assessment. Recovering from a testing start when he lost places from pole on cold rubber, the world champion held his composure and put his head down to then manage his tyres to perfection. The track surface lacked grip and was a challenge but Hamilton had its measure, exploiting the additional pace he was able to eke out from not overworking his rubber to retake and then hold a significant lead over Bottas.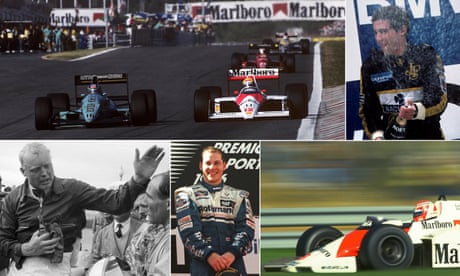 Great Portuguese GPs: from Porto's pavements to Senna's crowning F1 win
Portugal has not hosted a grand prix for 24 years since 1996 when Jacques Villeneuve won at Estoril, in doing so making a memorable pass on Schumacher. This time Hamilton showed the same fine race management the great German so often exhibited. Indeed, he was on rails through the undulations of the hills of the Algarve's rollercoaster. Once he had ensured he had put less wear into his tyres and regained his lead, he never looked back, taking the flag 25 seconds from Bottas. More is surely to come, this moment a special one but Hamilton's entry in the history books is far from finalised yet.
Ferrari's Charles Leclerc an excellent fourth and there was a superb fifth for Pierre Gasly in the AlphaTauri. Carlos Sainz was sixth for McLaren, Sergio Pérez seventh for Racing Point. Renault's Esteban Ocon and Daniel Ricciardo were in eighth and ninth and Ferrari's Sebastian Vettel in 10th.
Since you're here …
… joining us from South Africa, we have a small favour to ask. Millions are flocking to the Guardian for open, independent, quality news every day, and readers in 180 countries around the world now support us financially.
We believe everyone deserves access to information that's grounded in science and truth, and analysis rooted in authority and integrity. That's why we made a different choice: to keep our reporting open for all readers, regardless of where they live or what they can afford to pay. This means more people can be better informed, and inspired to take meaningful action.
In these perilous times, an independent, truth-seeking global news organisation like the Guardian is essential. We have no shareholders or billionaire owner, meaning our journalism is free from commercial and political bias – this makes us different to many others. We can investigate and report without fear or favour.
Amid the various crises of 2020, we recognise the climate crisis as the defining emergency of our lifetimes. We're determined to uphold our reputation for producing powerful, high-impact environmental journalism that reflects the urgency of the crisis. And when it's never been more pertinent, our independence means we can scrutinise, challenge and expose those in power on their climate policies and decisions.
A year ago we also published a climate pledge, outlining the steps we promised to take in service of the escalating emergency. And we've made good institutional progress since: we no longer accept advertising from fossil fuel companies, making us the first global news organisation to do so, and we're on course to achieve net zero emissions by 2030.
If there were ever a time to join us, it is now. Your funding powers our journalism, it protects our independence, and ensures we can remain open for all. You can support us through these challenging economic times and enable real-world impact.
Every contribution, however big or small, makes a real difference for our future. Support the Guardian from as little as $1 – and it only takes a minute. Thank you.
Source: The Guardian