Ngozi Okonjo-Iweala has been adjudged the '2020 African of the Year'. Previous winners have been Rwandan President Paul Kagame (2018) and African Development Bank President Akinwumi Adesina (2019). Okonjo-Iweala is well-positioned to take on the next big role, transforming Africa and negotiating on the world stage.
About 17 years ago, Dr. Ngozi Okonjo-Iweala challenged Nigeria's patriarchy by becoming the longest-serving finance minister, the first foreign minister, and most importantly, the first woman to ever hold those positions.
Today, she is on the brink of yet another first, as a finalist to the top post as theseventh Director-General of the World Trade Organization (WTO), a position which will make Okonjo-Iweala the first African and once again the first woman to lead the prestigious trade body.
Okonjo-Iweala has the largest support – 164 members – from all levels of development and geographies following a grueling five-month competitive vetting process that began with eight candidates. The final decision is still awaited and could come anytime.
But hurdles are nothing new for Okonjo-Iweala. As Nigeria's finance minister, serving two terms under the leadership of President Olusegun Obasanjo and President Goodluck Jonathan, Okonjo-Iweala has had to slay her fair share of goliaths in her illustrious career spanning over 40 years.
She recounts one particular incident, which was one of the most traumatic in her life.
"My mother was kidnapped and held for five days when I was finance minister. The [kidnappers] thought that killing me would be too merciful and wanted to paralyze me for the rest of my life. When you are fighting powerful people who are corrupt, they fight back in very dangerous ways," says Okonjo-Iweala in an interview with FORBES AFRICA in November, from Washington DC.
All through the ordeal, Okonjo-Iweala stood her ground with the backing of her father and was able to mount enough pressure for the kidnappers to release her 83-year-old mother unharmed.
"I tried to stop paying some corrupt people some money that they were trying to get from the government fraudulently, and with the backing of the president, we said we wouldn't pay. So, they told me to go on radio or TV and resign and leave the country or else they would kill my mother. I thought maybe something would happen to my children or my husband or my siblings, so we were constantly telling our children to be careful and mindful and to be watchful. I never dreamed anyone would touch my parents."
And as if that was not enough, there was also the mammoth issue of Nigeria's $30 billion debt, along with a debt service of about $2 billion a year, which Okonjo-Iweala had been tasked by President Obasanjo to rectify. The call came when she was in the middle of a successful career at the World Bank, where Okonjo-Iweala had worked her way up diligently as a development economist to becoming a Managing Director.
"I moved very fast within the bank. I was enjoying what I was doing. I was doing things that helped people and projects that made a difference like bringing in water supply and increase agricultural production [and bring about] better living conditions and that really motivated me a lot. I received my promotions in a timely fashion because I worked hard," says Okonjo-Iweala.
She heeded the call of President Obasanjo to return home and help Nigeria get a firm grip on its enormous debt. In six months, Okonjo-Iweala had already introduced reforms which included reorganizing the bank by removing the six agencies who were supposed to be in charge of Nigeria's debt facility and replacing it with the debt management office which still stands today. She also implemented technological innovations to streamline operations and finally managed to write off $18 billion dollars of the debt owed by Nigeria before returning to the World Bank.
"When I came back to the bank after the six-month leave, I was promoted to vice president and corporate secretary for a couple of years before President Obasanjo asked me to come back again and be finance minister. So, I resigned in 2003 and I went to be finance minister for three years and then spent another four years under President Jonathan, which makes a total of seven years"."
In her second term as finance minister, she completely cleared the rest of the debt and focused on transparency and fighting corruption and tried to put the account of the country and the management of finances on a more modern technology platform, which would enable Nigeria to curtail leakages of revenue and salaries. She was determined to stop the endemic corruption that had plagued Nigeria for years.
"And when you do that, you put yourself in a position of attack constantly so sometimes I couldn't tell whether the attacks were happening because I was trying to block revenue leakages and block corruption or whether I was being attacked because I was a woman or both."
Even in the early years of her career, the goal for Okonjo-Iweala during her tenure especially at the World Bank was always to learn as much as possible and rotate between different countries and regions so she could use that knowledge to return home and help build Nigeria.
Her 25-year career at the World Bank helped her do exactly that. Her passion for the development of Nigeria and Africa is one that was birthed out of conflict. She spent her early childhood with her grandmother in the village of Ogwashi-Ukwu in Delta State Nigeria. Her parents, who were both academics specializing in mathematical statistics and economics and sociology respectively, had received scholarships to study in Germany, which meant they had to leave the young Okonjo-Iweala to learn the lessons of life from her grandmother.
"Countries are moving away from the use of fossil fuels and even oil giants are moving investments into renewables so, as a country, we also have to start shifting our mind frame because there will come a time when we may not be able to export our oil."
"By the time I was nine, I knew how to cook and take of care things like fetch wood for fire and other practical things. It was a very loving childhood. The majority of my uncles and aunts all had doctorates and were all teaching in universities so I was surrounded by academics. I thought I was going to be an academic and do a PhD not because it was forced on me but that is what I saw around me."
Her parents' goal was for Okonjo-Iweala and her six siblings to achieve the highest level of education and use it as a tool in meaningful ways to make an impact and that is exactly what she set out to do. After completing her primary school education in a village behind her grandmother's house, she went to the Ibadan International School for her secondary education before finishing at Queens School Enugu.
Then, all hell broke loose.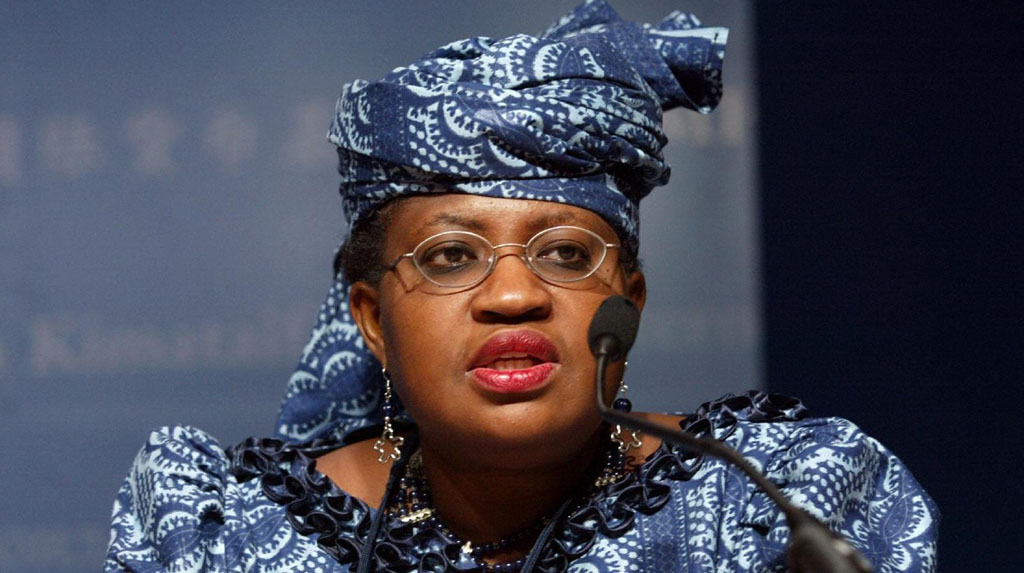 "My education was truncated by the Nigerian Biafra War. We were in the war for three years and this was something that really opened my eyes. It started when I was just entering my teens and finished when I was in my mid-teens. It was a harrowing time, two of the three years I didn't go to school."
The Biafra war, which claimed more than a million Nigerian lives half a century ago, had a long-lasting impact on Okonjo-Iweala.
"My parents lost everything, including all their life savings because they were on the Biafran side. I was eating one meal a day and children were dying. So, I learned to live very fugally. I often say I can sleep on a mud floor as well as a feathered bed and be very comfortable. It has made me someone who can do without things in life because of what we went through," avers Okonjo-Iweala.
After the war, Okonjo-Iweala managed to catch up with her education and got accepted into the University of Cambridge in the United Kingdom as well as Harvard University in the United States.
"My father said to go to Harvard because my mother was going to Boston University next door so the family thought she could keep an eye on me. Then I moved down the street from Harvard to MIT to do my doctorate and all the while meaning to be an academic."
Not one to rest on her laurels, Okonjo-Iweala is always looking for ways to utilize her remarkable knowledge and experience to help advance Africa. Take for example her work as the Chair of Gavi, the Vaccine Alliance, responsible for immunizing 760 million children and saving more than 13 million lives. The organization plans to immunize 300 million more children in the next five years and save another eight million lives.
"You can't feel better than that. You have the privilege of working on something that is saving the lives of children. More importantly, Gavi is at the center of development and delivery of corporate vaccines," says Okonjo-Iweala.
"We are signing contracts with companies like Pfizer and AstraZeneca so we can also contract millions of doses so that when developed countries are getting their own vaccines, our own countries will also get some."
At a time where the world is still grappling with the marauding Covid-19 virus, Okonjo-Iweala's work with Gavi, is more important for the African continent than ever before.
"This is cutting-edge to be in the place where we are trying to see which Covid vaccines are going to be efficacious but more importantly, we have developed a facility to get them to poor countries so that poor countries do not have to queue behind. When we had other life-saving vaccines in the past like [for] the H1N1, rich countries bought them up and poor countries had to wait in the queue."
To ensure this doesn't happen again, Okonjo-Iweala and her team have developed the Access to Covid 19 Tools (ACT) Accelerator with the World Health Organization (WHO), Coalition for Epidemic Preparedness Innovations (CEPI) and Gavi, to look at vaccines, therapeutics and diagnostics for impoverished countries. Within this framework, the organization has also developed the Covax facility, which is the vaccines' pillar of the ACT accelerator to make vaccines available to poor countries.
"We are signing contracts with companies like Pfizer and AstraZeneca so we can also contract millions of doses so that when developed countries are getting their own vaccines, our own countries will also get some. We were able to raise $8.8 million for Gavi and we are busy raising money for Covid to support poor countries. In the short-term, we have raised $1.8 billion for Covid and we are looking to raise $5 billion next year," says Okonjo-Iweala.
Okonjo-Iweala believes there are key lessons for Africa to learn post Covid. Firstly, there is the need to shift away from commodity dependence for revenues.
"We must change the structure of our economy and the structure of our revenues. It's not just the structure of our economy because actually Nigeria's economy is quite diversified but we don't tax other sectors properly because we have this money coming from petroleum. So, we have to change all of that and change the structure of our revenue streams and economy in order to survive because the world outside is changing."
Secondly, economies need to develop a robust value-added system to products which means more local manufacturing as well as looking at other types of services and creative industries that can create jobs. Finally, she believes Africa needs to start focusing more on technology and on going digital by ensuring that the infrastructure for a digital economy and society is being laid across the continent.
"Education will go digital so will health and manufacturing and e-commerce. For those products we grow, like [in] agriculture, we have to add more value. Nigeria is an oil and gas economy and you can see what is happening with this issue of climate change. Countries are moving away from the use of fossil fuels and even oil giants are moving investments into renewables so, as a country, we also have to start shifting our mind frame because there will come a time when we may not be able to export our oil," says Okonjo-Iweala.
As the world awaits the outcome of the WTO appointment, a move that many across the continent is hoping will lead to a new era of positive trade balance, reduced protectionism and a surge in foreign direct investment for the African continent, Okonjo-Iweala, the mother of four, is yet again poised to use her skills in economic development to create an even greater impact for Africa.
Easily Africa's most prominent citizen this year for leading the charge for the access of Covid-19 vaccine by the poorest of the poor, and for taking the continent to the world stage, we ask how she would feel about such an honor.
"It makes me feel humble and makes me feel honored. I am sure there are people elsewhere doing equally good things or more and people we don't even know about but I am honored. It is wonderful and fantastic."
Source: Forbes Africa